loneoceans labs | RSSTC 3 PCB kit (temporary placeholder page)
---
RSSTC 3 v1.0 PCB Set - Prototype Run

(Sold Out)
No more SSTC 3 boards are available for sale. Please see the new SSTC 4 platform.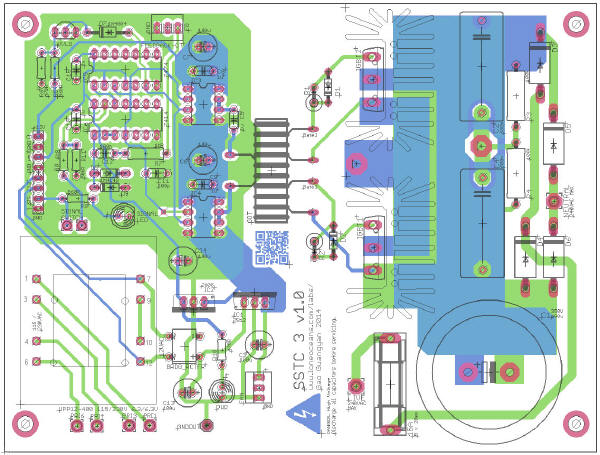 PCB Layout for the main board
Features
The RSSTC 3 single-PCB Tesla Coil was developed as an all-purpose Tesla Coil platform for building a compact solid-state coil all one one PCB. It has several standout features:
Compact footprint and mounting holes to fit and mount exactly in almost all ATX power supply cases!
Laminated half-bridge topology for lowest bus inductance accepting your favourite TO-247 IGBTs
General purpose feedback allowing antenna, primary or secondary feedback
On-PCB logic transformer for one-power cable operation!
Swapple interrupters / controllers like GPUs on a motherboard
Safety protection - bleeder resistors, under voltage lockout, fuse (5x20mm)
Works on both 120/208/240VAC input (wire the logic transformer correctly)
Optional bus capacitor (depending on your needs)
Just add one resonant capacitor to convert this into a DRSSTC!
PCB Set
This was the first set of PCBs I sent for fabrication for the coil. However they are expensive in small quantities. I had a few leftover boards and decided to offer them for sale since many people were interested.
This set comes with the following 3 PCBs I developed specifically for this project:
Tesla-Coil-On-A-Board SSTC 3 main PCB
Staccato swappable interrupter board
ATtiny / Fiber input swappable interrupter board (see SSTC 2 for ATtiny interrupter details)
Because this set is a development board set, I cannot provide additional support for you to use the boards. However, you can see my SSTC 2 and SSTC 3 pages for a comprehensive write-up on how I used them.
Pricing
The cost is US$60 including shipping to anywhere in the contiguous USA. Will also ship to anywhere around the world (generally brings the cost to ~$70) Contact loneoceans [at] g mail [dot] com for enquiries.
Main Board Parts List
Many of the parts used are quite generic (e.g. various resistors, bypass capacitors). This list is broken down into two sections - list of specific components with Digikey part numbers, and the second section with everything else you might already have on hand. Feel free to change the components to suit your needs.
Specific Parts
C1 - Optional Bus Cap - 35 x 35mm PCB Snap-In Electrolytic Capacitor 350V 680uF - 565-2765-ND
C2 / C4 - DC Blocking Cap - 26 x 10mm 680nF 275VAC Polypropylene Capacitor - P14784-ND
IC3 - UCC37321P 9A MOSFET Driver, Inverting, Texas Instruments
IC4 - UCC37322P 9A MOSFET Driver, Non Inverting, Texas Instruments
Logic Transformer - Triad Magnetics 5VA 12.6V Transformer, 237-1082-ND
Heatsink x 2 Clip On for TO-247 transistors, R2A-CT4-38E-ND
Optional TO-92 package 5V Under-voltage Lockout, DS123D-5+CT-ND
Common Parts
TO-247 IGBT / MOSFET x 2 - choose your favourite device!
R3 / R4 - 2W 100kR Bleeder Resistor
D3,4,5,6 - MUR460 4A Diode
Fuse - Standard 5 x 20mm Fuse Holder + Fuse (10 - 15A)
D1 / D2 - 1N5819 Schottky Diode
R1 / R2 - Gate Resistors, choose appropriately for your transistor; I used 5.1R 2W resistors
IC2 - 7805 V-reg
IC1 - 7812 V-reg
C3,6,7,13 - 100uF Electrolytic Capacitor, >25V
LED x 2, 5mm, choose your favourite colour
Bridge Rectifier, 1A, Standard DIP package
C12 100nF 50V Ceramic capacitor 5mm pitch
R7 - 1kR 2W resistor
D7 - 1N4004 Diode
D8, 9 - 1N4148 Diode
Standard 8-pin 0.1" pitch female header
Optional signal switch
Optional 3pin Molex Headers 0.1" pitch x 2
Resistors: 470R, 470R, 560R, 560R, 1kR, 50kR, 1/4W
All other capacitors x 4, 1uF 50V 5mm pitch Ceramic bypass capacitors
Gate Drive Transformer and Feedback Transformer ferrite core x 2 (chose for your appropriate frequency)
... and one old ATX power supply box to put it inside :-)
Staccato and Fiber Interrupter Boards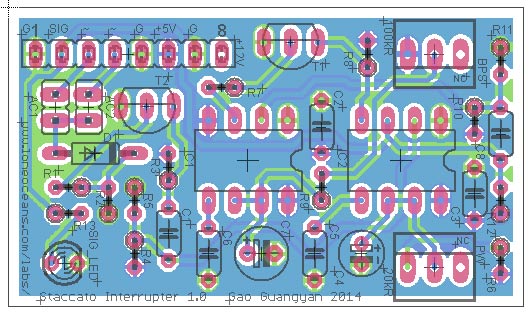 The Staccato interrupter is a straightforward build. Note the 8-pin 0.1" pitch male headers should be installed on the opposite side of the board to plug into the main board. All components are labeled and can be populated as follows in the schematic. Note the usual 2 pin jumper headers.
The two transistors are standard PN2222. Note the capacitor values for C4, C7 and C8. The two 3-pin headers are only actually connected to two pins as labeled. They must be connected to 20kR and 100kR variable resistors.
Finally, the standard ATtiny interrupter / fiber input board is even easier. It uses the same header pins, as well as standard 1000um plastic fiber receivers. It uses the FB123-ND (IFD95) and accepts most corresponding fiber transmitters using the 1000um plastic core fiber. The ATTiny can be programmed using code found in my SSTC 2 page. It accepts the same 20kR and 100kR potentiometers. Note that in this revision, for same direction of control for the BPS and PW potentiometers, the 3-pin headers for one of the boards must be inverted for easy swapping ability. Otherwise experiment to find out what suits you best.
R-SSTC 3
Here's the RSSTC 3 board populated and installed, and running a coil with 208VAC input.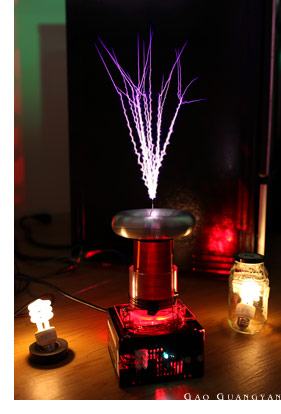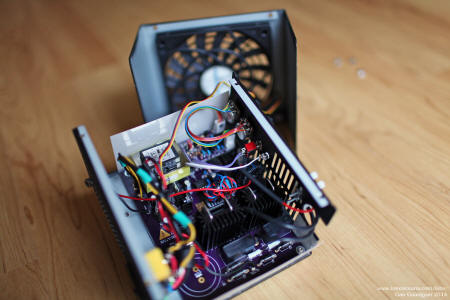 Please see my R-SSTC 3 page for more details of my build with this coil. Looking forward to seeing what you can come up with this board!
See www.loneoceans.com/labs/ for more information.
---
Back to loneoceans labs. (Updated June 2014)